PROFILE OF
Prof. (Dr.) Alka Agarwal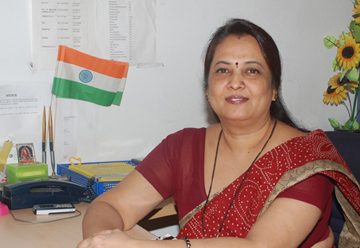 Core Skills Entail:
Demonstrate excellent leadership and organizational skills and the ability to motivate people.

Vision, Strategy, Execution and Leadership skills

Highly developed Communication and written skills

Flexible, innovative, creative.

Highly organized and strong follow-through with tasks and promises.

Ability to manage budgets and implement spending procedures and monitoring

Ability to interact with a broad and diverse population of internal and external stakeholders

Ability to develop curriculum and lead instructional programs.

Planning & Objective settings

Staff Development & Motivation

Proficient at arranging the competitions and assessing the performance of the students
Academic Qualifications:
Doctorate in Phillosphy (Ph.D) in Commerce from Rajasthan University in 1992.

Master in Phillosphy (M.Phil) in Business Administration From Rajasthan University in 1989.

Mastersin Commerce (M.Com) From Rajasthan University in 1985.

Bachelorsin Commerce (B.Com) from Maharani College in 1983.
Current Assignment Profile:
Currently functioning as Principal Mewar Institute of Management, Ghaziabad since 2010 and Director, Board of Studies, Mewar University, Chittorgarh.
The key responsibilities include
Establish systems and ensure smooth Administration & Operations.

Plan, Strategize, Evaluate and Reinforce effective & economic Services at

Handling all Statutory related requirements, recruitment & training and development.

Policy formulations related to Administration and Academics.

Adopting and benchmarking Admin& Academics best practices across Institutes.

Management of Employee service related activities.
         - Facility management & Housekeeping
         - Reception & Office administration
Prior to the current assignment, has worked as Head of Management Deptt. in the current organization since 2003.
Prior Assignments:
Lecturer 2002-03RCCV Commerce College, Ghaziabad

Director Aug.1996-May 01Institute of Business Management and Communications, Ghaziabad

Lecturer 1995-96Institute of Management Studies, Ghaziabad

Lecturer 1992-95Institute of Productivity and Management, Ghaziabad

Lecturer July 1986-April 87Shri Veer Balika College, Jaipur

Lecturer Jan. 1986-March 86Shri Veer Balika College, Jaipur
Achievements:
Have gathered valuable experience as an academician and published many papers in prominent National Journals/publications.

Associated with different Universities for providing guidance in Administration & Research works.

Research guide to numerous Ph.D students from Jaipur University and Mewar University.

Member of examination and Viva Voce Panel.

Member of selection board to appoint faculties in Institute and University.

Presented research papers on many occasions.

Research guide in two Universities-Jaipur National University and Mewar University

Made preparation for NAAC accreditation and got the same in 2002 for Mewar Institute.

Awarded "Women Super Achiever "award in 2012 from Asia Pacific HRM Congress.